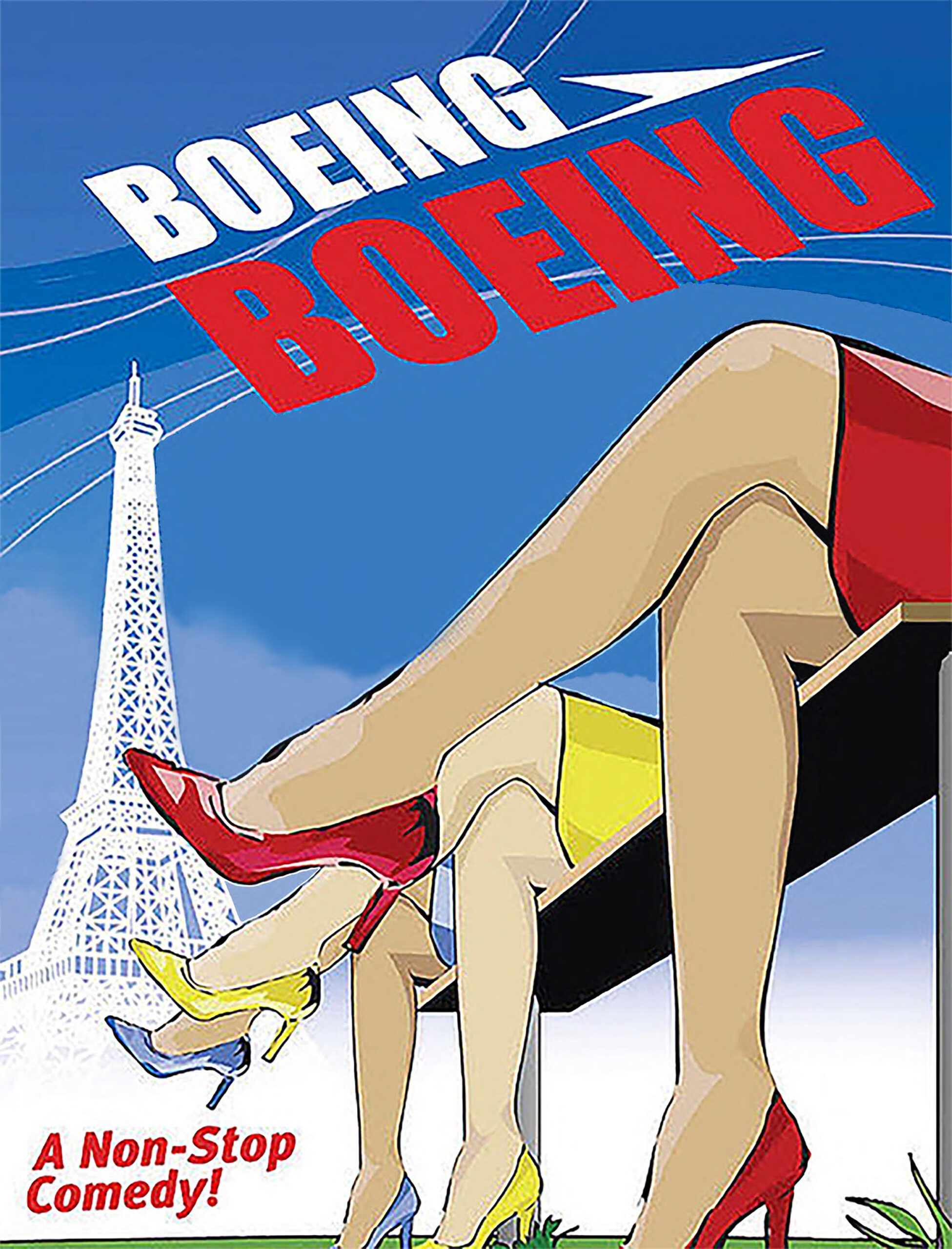 Boeing-Boeing
by Marc Camoletti
translated by Beverly Cross and Francis Evans
Set in the 1960s, bachelor Bernard has a flat in Paris and three airline stewardesses all engaged to him without knowing about each other. Bernard's life gets bumpy, though, when his friend Robert comes to stay, and complications such as weather and a new, speedier Boeing jet disrupt his careful planning. Soon, all three stewardesses are in the city simultaneously, and catastrophe looms.
October 28–November 20, 2022
Performances are Friday, and Saturday at 7:30 p.m. and Sunday at 2 p.m.
Actor
Role

Valerie Gerlock
Lauren Miller*
Claire Rutkowski*
Garrett Wiegel
Joshua Paul Wright
Allison Zanolli

Gretchen
Berthe
Gloria
Bernard
Robert
Gabriella
Role
Name
Producers
Director
Set designer
Costume designer
Lighting designer
Intimacy designer
Properties manager
Social media manager
Jim Masini* and Jill Chukerman Test*
Sean Michael Barrett*
Emil Zbella*
Robert-Eric West*
Samuel Stephen
Melinda "MJ" Deamon*
Paula Kenar*
Beth Bruins*
*Saint Sebastian Players Company Member
Valerie Gerlock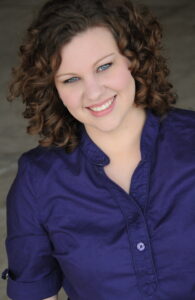 Valerie Gerlock (Gretchen) is pleased to return to SSP after appearing previously on this stage in Charley's Aunt (Donna Lucia), The Real Inspector Hound (Moon) and The Shady Lady (Nicole). A graduate of Wright State University, she has appeared professionally in productions of The Mousetrap (Mollie), A Midsummer Night's Dream (Helena) and The Sound of Music (Frau Schmidt) and academically in Proof (Claire), 'Night Mother (Thelma), Angels in America (Hannah) and Blithe Spirit (Mme. Arcati). Special thanks to her friends, family and, especially, Phillip for all of their support.
Lauren Miller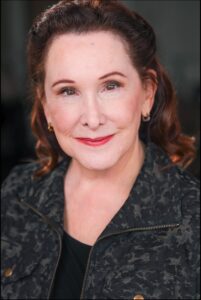 Lauren Miller (Berthe) is delighted to rejoin SSP for Boeing Boeing! Regional credits include Sister Act (Mother Superior/Metropolis), A Christmas Carol (Mrs. Cratchit, Mrs. Dilber, Ghost of Christmas Present/Metropolis), Steel Magnolias(Ouiser/Okoboji), Light up the Sky (Stella/Citadel), Cabaret (Fr. Schneider/Big Noise Theater), Nevermore (Poe's mother/Jedlicka), Drood (Puffer/Saint Sebastian Players), The Mikado (Katisha)/G&S Opera, The Birds (Peggy/Hell in a Handbag), Rosencrantz and Guildenstern are Dead (The Player/Saint Sebastian Players), Diamond Lil and the Pansy Craze (Nettie/Three Cat Productions), along with an assortment of Shakespearian roles. Upcoming: Midlife Crisis Hotline podcast co-host! Stay tuned. She is represented by Big Mouth Talent. MeetLaurenMiller.com
Claire Rutkowski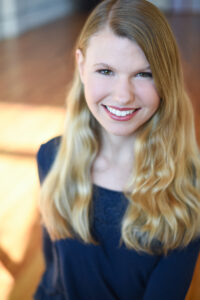 Claire Rutkowski (Gloria) is incredibly excited to start the season by spending the 1960s in Paris! Her past SSP credits include The Shady Lady (Madison), The Real Inspector Hound (Felicity), Our Town (Emily) and Lunch at the Akropolis (Kristin). Other Chicago credits include the staged reading of The Shady Lady (Madison) at Rhinofest 2020 and A Christmas Carol (Fan/Belinda/Want). She performed during her time at Valparaiso University in God of Carnage (Veronica), Short Plays by Samuel Beckett (Player 1/May), Macbeth (Angus/Lady MacDuff), Dead Man's Cellphone (Jean), Art (Serge), Deliver Us Not! (Fetus #3) and Sure Thing (Betty). She thanks her SSP family for all of the love, support and education. Her heart could not be more full.
Joshua Paul Wright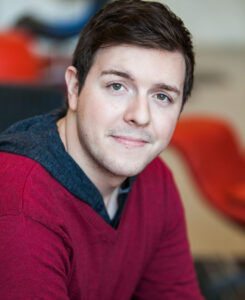 Joshua Paul Wright (Robert) is grateful to be taking off with SSP for their new season! A Utah native, he received his bachelor of fine arts degree from Utah State University. Previous SSP credits include Charley's Aunt (Charley), Born Yesterday (Paul) and The Shady Lady (Big Preston). He gives thanks to his wife Samantha, for her unwavering support, and to Sean Barrett for continuing to invite him back to play.
Allison Zanolli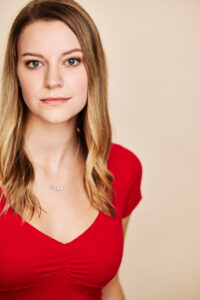 Allison Zanolli (Gabriella) is thrilled to be appearing in her first production at SSP. She is a graduate of Northwestern University and the ACADEMY at Black Box Acting in Chicago. Her past work includes Buried Child (Shelly), Three Sisters (Irina) and Stand Up If You're Here Tonight, as well as direction of new work, playback theatre and acting for the screen. Love to her family and friends.