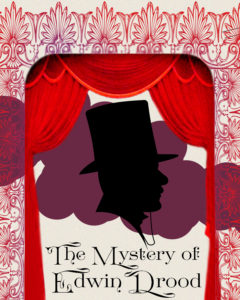 Based on Charles Dickens' final unfinished novel, this hilarious whodunit invites the audience to solve its mystery by choosing the identity of the murderer, potentially changing the show's ending at each performance. This tune-filled, fast-paced tale is presented as a show within a show, as the Music Hall Royale—a delightfully loony Victorian theatre company—presents Dickens' brooding mystery.
Buy Tickets
Adult – $25
Senior/Children/Students with ID – $15
book, music and lyrics by Rupert Holmes
October 26 – November 18, 2018
Actors
Mr. William Cartwright, Chairman of the Music Hall Royale – Darryl Maximilian Robinson
Miss Jemima Throttle, Stage Manager of the Music Hall Royale – Sophie Duntley
John Jasper/Mr. Clive Paget – Sean Michael Barrett
Edwin Drood/Miss Alice Nutting – Sarah Myers
Drood Understudy/Miss Lucille LaPort – Allison Rose Macknick
Rosa Bud/Miss Deirdre Peregrine – Shayla Rogers
Beatrice/Miss Violet Balfour – Maia Gersten
Wendy/Miss Sarah Cook – Becca Sheahan
Helena Landless/Miss Janet Conover  – Anna Gallucci
Neville Landless/Mr. Victor Grinstead – Peter Kattner III
The Reverend Crisparkle/Mr. Cedric Montcriffe – Russ Gager*
The Princess Puffer/Miss Angela Prysock – Lauren Miller*
Mayor Thomas Sapsea/Mr. James Hitchens –  Medford Moss
Durdles/Mr. Nick Cricker – Eric S. Prahl*
Deputy/Master Nick Cricker Jr. – Nate Becker
Flo/Miss Florence Gill – Shelley DeHosse
Shade of Drood/Miss Daisy Sayle – Allison Rose Macknick
Puffer's Girl/Miss Isabel Yearly – Anna Gould
Puffer's Girl/Miss Rose McQueen – Kelly Figley
Waiter/Bazzard/Mr. Phillip Bax – Adam Hoak
Dick Datchery – ???
Production Staff
Producer – Steven Walanka*
Director/Music Director – Robert-Eric West*
Choreographer – Tamara Drew
Technical Director – Jim Masini*
Set Designer/Decorator – Emil Zbella*
Costume Designer – Sandra Leander
Stage Manager – Sean Smyth
Properties Manager – Ron Popp*
Assistant Producer – John Austin*
Assistant Director – Valerie King*
Public Relations Manager – Jill Chukerman Test*
*Denotes Saint Sebastian Players member